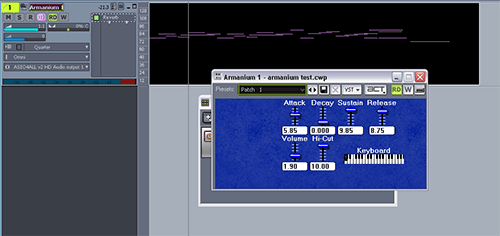 I made my first test build of the Armanium VST instrument. It has ADSR controls, a high-cut filter and a master level. Pretty basic. I think I'll throw in a reverb module and call it good.
I'm also considering contacting the creator of vsthost and seeing if he will allow me to package his free host application with my downloads. This would enable non-audio people to play with my virtual instruments on a PC and get some kind of idea about how this all works.
Anyway …
Here is an audio sample from the newly sort-of-completed Armanium VSTi.
Audio clip: Adobe Flash Player (version 9 or above) is required to play this audio clip. Download the latest version here. You also need to have JavaScript enabled in your browser.
Sounds kind of scary ….