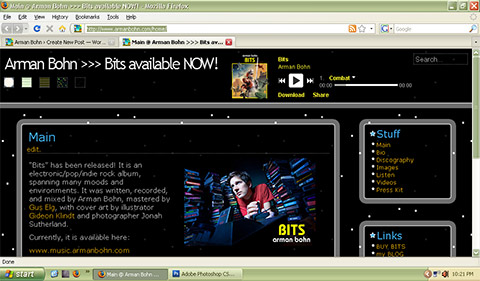 The blog has not died … I've been on a blogcation.
I've been:
getting the "Bits" press kit ready
finishing the "Combat" video and putting it online
creating general MIDI versions of "Bits" moments for ringtone use
redesigning my website to be "Bits"-centric from the homepage
sending a few copies of the record around to press and friends
planning the next video
getting the cd on CDbaby …iTunes … other online retailers
TWITTERING
Now I have that cool little playback thingy up top, some new navigation options (some of them are blank as of yet). Too much to do.
Oh yeah … and I'm going to start a band up … I think. And hopefully do another photo shoot. And go to work at my real job.