Click the image above to play!
I finished the walk cycle for MC that covers the first one minute of the "Demons to Diamonds" music video. Walk cycles are one of the fundamental aspects of animation and it feels pretty good to get one finished (my first one).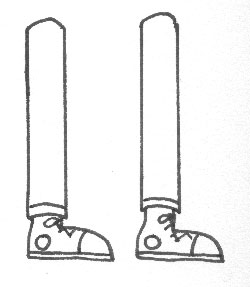 It was created in After Effects CS3 by animating the puppet tool and morphing a couple of "still shots" of the legs that Brad drew into the various positions. I am particularly proud of the way the front of the foot flaps onto the ground.

I found the above diagram online and used it as the basis for MC's walk. This movie is being created at 24fps so it had to "fill in the blanks" a bit to make it work out. I haven't started working with the upper body yet … I need to make it flow with the legs a bit.