Today, Liz, my mom and I went to Movie Madness and my mom picked out quite possibly the worst and strangest movie I've seen in years.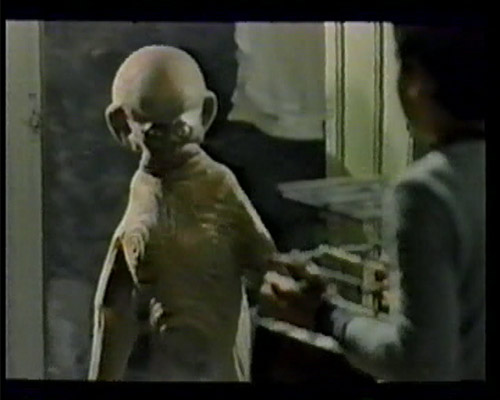 Badi (1983) is a Turkish knock-off of our beloved movie E.T.. The film was in what I imagine to be Turkish without subtitles and yet we watched all 72 minutes of this disturbing tale of an extraterrestrial who likes little boys and has an affinity for nudie mags.
-Scene from Badi–
Double Click the image below to play to play:
They pay homage to almost all the original scenes from E.T.. The lab frogs are there … creepy healing fingers … floating apples on a string … the refrigerator raid … and of course a flying street vendor cart at the end that takes the kids to an amusement park where Badi (E.T.) powers up the rides and lets the kids ride all night for free before returning home in his propane powered sparkler ship.
Can I say "OOOOUUUUCH"????