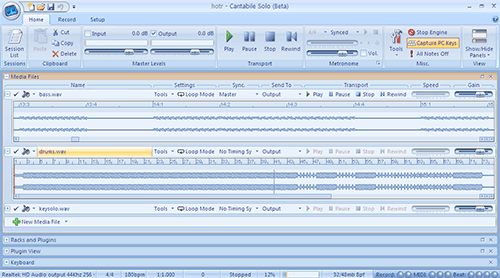 In the search for a dedicated VSTi host for my PC, I have tried VSThost, minihost and a few commercial applications. One of which is called Cantabile. Cantabile comes in three flavors – Lite (free), Solo (full featured) and Performer (super-featured). I opted to start with the Solo edition due to my lack of a need for the advanced MIDI features offered by the Performance edition.
Cantabile is a small application (~3mb) that is intended as a method to quickly access VST instruments and effects and provide a stable host environment. I've been using it for a couple of weeks and it does seem very stable. I'm not pushing it to the limits though … I'm running it on an Intel Atom based Lenovo S10 netbook with 2 GB of RAM (not a high performance machine). I have an external MIDI keyboard controller and I'm borrowing a M-Audio USB soundcard for output.
I intend to use my new mini-keyboard rig in a new band that I'm playing in. I'm a bit skeptical of relying on a PC based solution for performing electronic music … you know … Windows. So far, I have played back three WAV files while hosting a few VST instruments without suffering any dropouts or audio hiccups. I don't imagine that I'll need more than that in this current band … but who knows. I still might end up throwing a simple electronic drum controller in the mix and triggering some samples.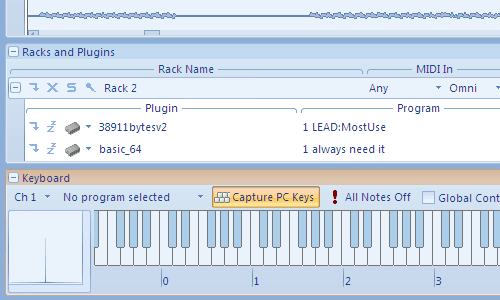 After installing the program, it automatically scanned and registered all my VST plugins.The interface is clean and more Vista-like than XP (for those of you that care for more bubbular looking interfaces). The sections are divided logically and allow for a healthy degree of customization. You can even play your VST instruments with a configurable QWERTY keyboard interface … as in "no MIDI keyboard needed, just play with you alphanumeric interface". Nice.
You can drop MIDI, WAV or MP3 files into its media player and synchronize playback of all files to a master track. Tempo and time signature are configurable for each media file. Although playback start/stop could be synchronized between tracks, I couldn't figure out how to synchronize playback position. For example, let's say the band want's to practice a certain section in the middle of a song starting at measure 20. If the song has multiple media files (bass, drums, ect.) you need to set the start point for each media file individually at measure 20 in order for playback of all the tracks to be in sync. It would be nice if the "master" track would force others to sync to its position as well as playback state. A small gripe.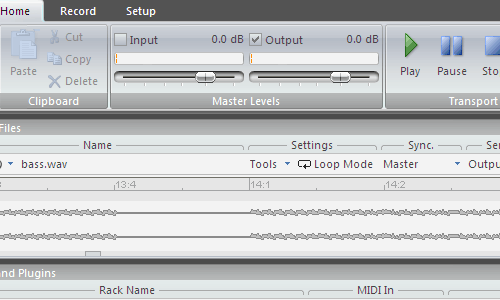 The windows and tabs in the interface all re-size smoothly and almost every screen item can be ditched in favor of simplicity. Most features are represented by visible buttons. The "Option" menu is well thought out and contains all the tweaks and under the hood performance stuff that many people may well leave alone.
I'll be putting this thing through the paces in the weeks to come. I really don't want to go back to a hardware based synth/rompler, so I'm hoping this netbook/VST application will be the solution for me.