In the summer of 2002, I constructed a stereo effects unit inside a tool box.
I used:
Two phase canceling spring reverb units (a total of four reverb tanks) from PAIA.
Two square wave fuzz boxes from Craig Anderton's book.
Two ring modulators (also from Anderton's book).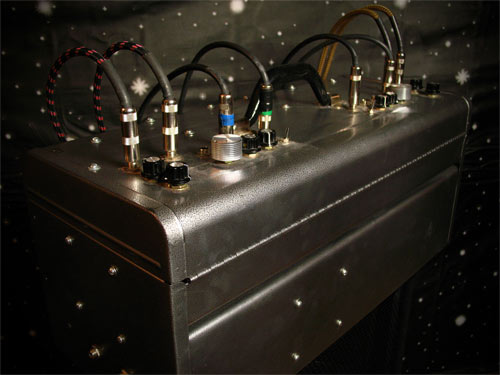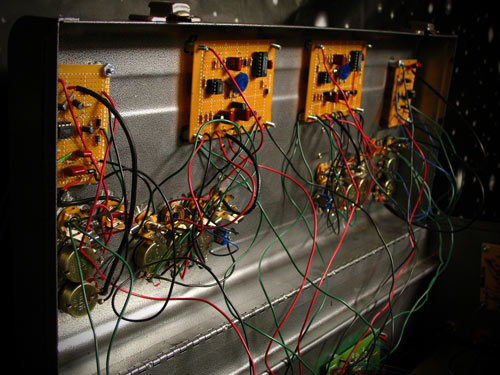 Unfortunatly, the fuzz boxes and ring modulators were of an old design that required a chip no longer in production. I had to source a replacement chip and make note of the diferences in pinout. Maybe there is a new version of the book that addresses this issue.
My drilling skills are terrible so the interioir of the box looks out of whack … oh well.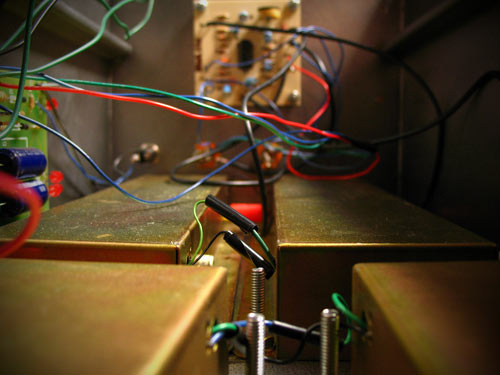 The reverb is by far the most usefull effect. Here it is on a drum loop:
Audio clip: Adobe Flash Player (version 9 or above) is required to play this audio clip. Download the latest version here. You also need to have JavaScript enabled in your browser.
The left and right channels both have two reverb tanks which are fed into the same amplifier. The phase is flipped on one which helps reduce some of the "boingy" sound inherent in spring reverbs.
The same drum loop with some stereo fuzz: WATCH YOUR SPEAKERS!
Audio clip: Adobe Flash Player (version 9 or above) is required to play this audio clip. Download the latest version here. You also need to have JavaScript enabled in your browser.

Pretty basic, Russian sounding fuzz.
Again with ring modulation:
Audio clip: Adobe Flash Player (version 9 or above) is required to play this audio clip. Download the latest version here. You also need to have JavaScript enabled in your browser.
Although the carrier signal is locked on the modulator, the frequency multiplier is adjustable allowing for a huge number of strange effects. It also has a switch to kill (or boost) some of high frequencies.
Long Live the TOOLBOX!!!!